MSU Campus Map Reimagined by Visiting International Scholar
Mengjie Wang Shares Her Inspiration and Design Process
Do you miss MSU's campus as much as we do? As many students have returned home and faculty and staff work remotely, we miss the daily interactions with fellow Spartans and realize how fortunate we have been to study and work on such a beautiful campus. The Visiting International Professional Program is pleased to introduce you to Mengjie Wang, whose art allows us to take a mental walk across campus.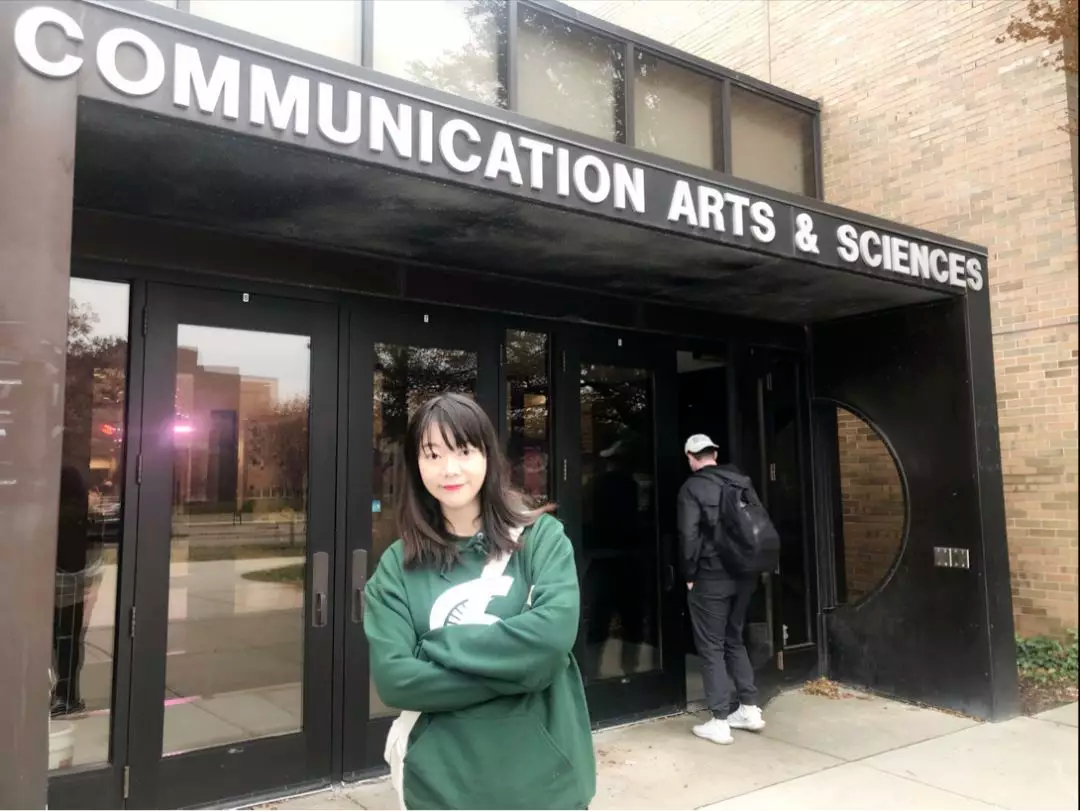 Mengjie came to MSU in April 2019 with the goal of learning about American pedagogy in brand development and graphic design. As a visiting scholar from Changzhou Vocational College of Textile and Garment in Jiangsu, China, she instantly fell in love with MSU's campus. To adjust to this new locale, she turned to art to make sense of the size and scope of campus. Read along to learn about Mengjie Wang's experience at MSU and discover her design process.
Inspiration
Mengjie's first impression of campus was springtime's many white dandelion puffs over all the lawns and green spaces. "When I first arrived, I was also overwhelmed by the size of campus and the many buildings; it was hard to find where I had to go. I tried to browse the map on the MSU website but, bizarrely, I found it hard to recognize anything," she recalls. With MSU's variety of architectural styles, a satellite view map does not quite allow easy recognition of campus landmarks. "This was the first time I thought about making a map more friendly to visitors, new students and scholars. When a Korean classmate told me she needed a good campus map because she did not want to get lost, I decided to really take action and make my own."
"When I first arrived, I was also overwhelmed by the size of campus and the many buildings; it was hard to find where I had to go."
Design Process
Our campus is easy to fall in love with but takes a while to get to know. Mengjie spent a lot of time researching the history and reference images of prominent campus buildings and landmarks. "Then I spent a whole week sketching those buildings and asked for feedback from friends, faculty, and fellow scholars. After that I needed another two weeks to revise my sketches." The biggest challenge to her was not sketching and drawing. Rather, she says, "I had to figure out how I could present the function each building serves and the part of the building that really characterizes it. The MSU Museum and Beaumont Tower, for example, are very complicated in architecture and structure and it took me a while to find their essential elements. With service buildings, including the Olin Health Center, cafeterias, and police department, the best way was to integrate symbols that international visitors recognize with those services. Lastly, to make the map interesting and make people want to visit campus, I added fun elements like the Bug House, Book Store, and Eat-at-State."
Mengjie did have to make some hard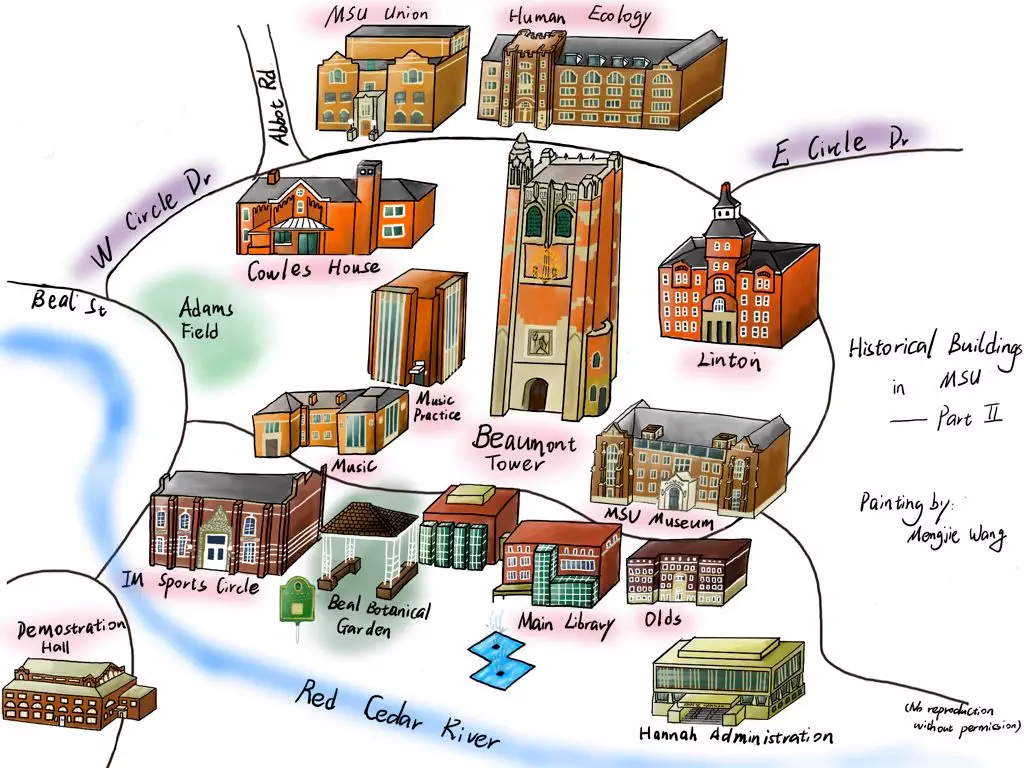 design choices and limit the number of buildings on her map to keep it clear and usable: "I thought that was a real pity to keep some historical buildings out. But to compensate for the space limitations on the map, I started a second project," she says. "Because the North Bank of the Red Cedar is so crowded with beautiful historical buildings, I made a separate map for just that part of campus. The graphic representation of each of the historical building is even harder than the hand-drawn map of MSU because the drawing of historical buildings involves depiction of details of the architectural structures. For this reason, I had to take lots of pictures of each of these buildings from different angles to details. After taking my own pictures and studying them, I started to sketch out almost 40 of these buildings. I finally came up with a collection of drawings of the historical buildings of MSU."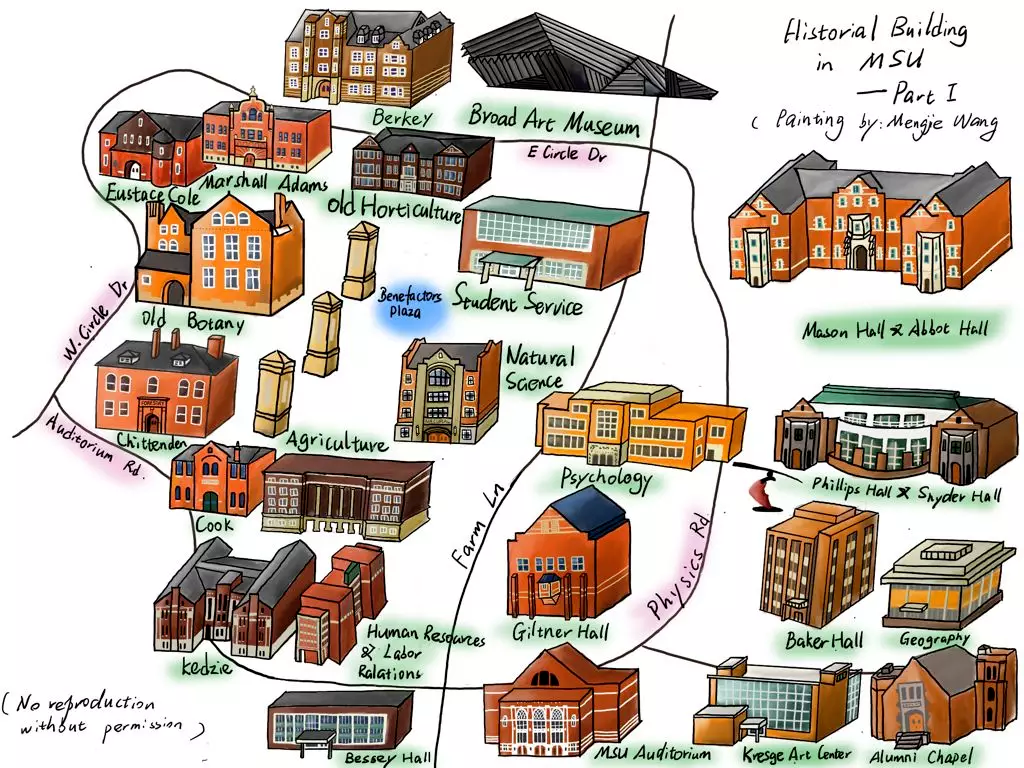 Love for MSU Campus Unites Us
When Mengjie showed us her final designs we were all stunned by her fantastic representation of campus and artistic skill. We are inspired by her love of MSU's campus and the new perspective she brings to our community. We want to thank Mengjie for being so generous and sharing her art with Spartans around the globe in these difficult times!
Mengjie will return to China soon and looks back fondly at her year at MSU: "I hope my work can help visitors to MSU, and also make life easier for newly arrived students and scholars to this school."
VIPP is the copyright holder of this MSU map. It is free to use for any non-commercial purpose to serve MSU students, faculty, staff and visitors. However, any mass reproduction of the map for prints and/or digital use need pre-authorization from VIPP. High-resolution PNG and PDF files are available. Please contact Mina Shin, VIPP associate director at mshin(at)msu.edu