The VIPP Alumni Awards Ceremony Showcases Accomplishments of Global Professionals
Guests from around the world came together virtually to celebrate VIPP alumni
On Friday, December 10th the Visiting International Professional Program hosted the VIPP Alumni Awards Ceremony, a celebration to recognize the achievements and contributions of its alumni. The virtual event was a culmination of VIPP's year-long 30th anniversary celebration. Winners were honored in the categories Early Career Award, Community Service Award, Special Recognition Award, and Lifetime Achievement Award. Guests from around the world, including alumni, participants, faculty, and friends joined the event to congratulate the awardees, and share their VIPP memories.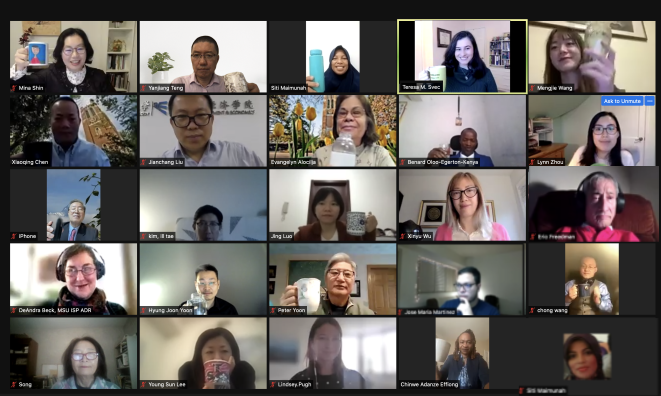 The event kicked-off with a special rendition of the MSU Fight Song, performed by Fulin Li, a graduate of the Tianjin Conservatory of Music. Li played the fight song on the erhu, a traditional Chinese two stringed musical instrument. Li is a 2019 graduate of VIPP, and during his time at MSU he became a big fan of the MSU Marching Band and Spartan football. Li was proud to learn the fight song to perform for the Alumni Awards ceremony, and guests were moved by his unique rendition. Watch the performance on Youtube.
During the award ceremony, a brief video was played for each winner showing a glimpse into their daily life. The first awardees to be recognized were the winners of the Early Career Award, Dr. Benard Oloo and Ms. Mengjie Wang.
Dr. Oloo is a Lecturer of Food Science and Technology at Egerton University in Kenya. VIPP hosted Dr. Oloo when he was a Borlaug Fellow at Michigan State in 2019. Dr. Oloo was presented his award by Dr. Evangelyn Alocilja, Professor of Biosystems and Agricultural Engineering at MSU. Dr. Alocilja talked about Dr. Oloo's work with the Global Alliance for Rapid Diagnostics (GARD) and the difference he has made both at MSU, and at home in Kenya.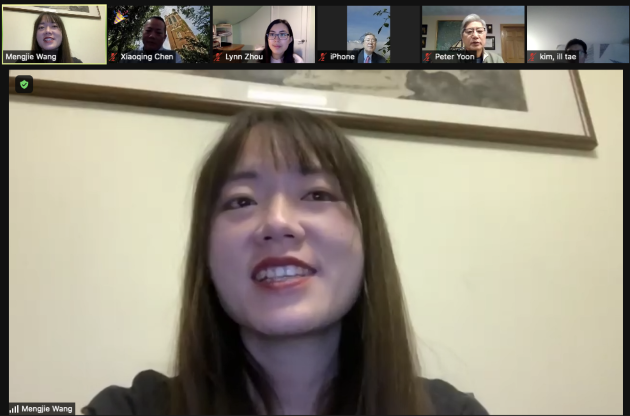 Ms. Mengjie Wang is a Lecturer of Artistic Design at the Changzhou Vocational Institute of Textile and Garment. Ms. Wang was presented her award by Jing Luo, Director of Marketing and Recruitment in the MSU Office of China Programs. Ms. Luo shared how the special visitor map created by Wang was made into a puzzle and was given as a gift during orientation to welcome Chinese students to MSU.
Dr. Chong Wang, an Associate Professor of Journalism in Capital University of Economics and Business in China was presented with the Community Service Award. Jianchang Liu, Professor of Business Management at the Beijing Institute of Technology presented Dr. Wang with his award. He shared how Dr. Wang's compassion and care for the community led him to create a special neighborhood watch to keep his community of fellow visiting scholars safe during the early days of the pandemic.
Mr. Soonwook Hong, President of Korea's KOSDAQ Market was awarded the Lifetime Achievement Award. A 2015 VIPP graduate, Mr. Hong has enjoyed a long and successful career in the Korean financial market. He played a pivotal role in the growth of the financial industry in Korea over the course of his career, and VIPP is very proud of his accomplishments.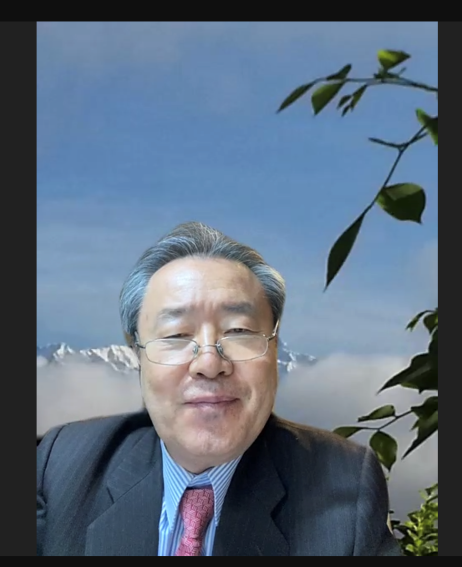 Winners gave brief speeches reflecting on what the awards mean to them, their time at VIPP and MSU, and what they hope to do in the future. It was inspiring to hear how the awardees used their time at MSU as a way to advance their careers, and also to find ways to give back to their communities.
The final awardee to be recognized, Dr. Daebong Kwon, is not a VIPP alum, but was instrumental in VIPP's founding. Dr. Kwon was the very first director of VIPP in 1991 and encouraged the creation of VIPP so that professionals from around the world could come to MSU for professional development and cultural exchange. Dr. DeAndra Beck, ISP Associate Dean for Research, presented Dr. Kwon with the Special Recognition Award for his role in founding VIPP and his continued support of VIPP over the years. Dr. Kwon, who is the President of Joongbu University in South Korea, shared his VIPP memories. After 30 years, it was very special to have VIPP's founding director present at the event.
Dr. Xinyu Wu, Director of VIPP then gave her congratulatory remarks. In her speech she emphasized that the achievements of the Alumni Award winners exemplify the impact of VIPP. Dr. Wu also shared a tribute to Dr. DeAndra Beck, who will be leaving her role in International Studies and Programs. Dr. Wu spoke about the important support and mentorship that Dr. Beck has provided over the years, and her speech featured a slideshow of Dr. Beck's engagement with VIPP. Dr. Beck was also presented with a portrait painted by VIPP alum Daisy Xu.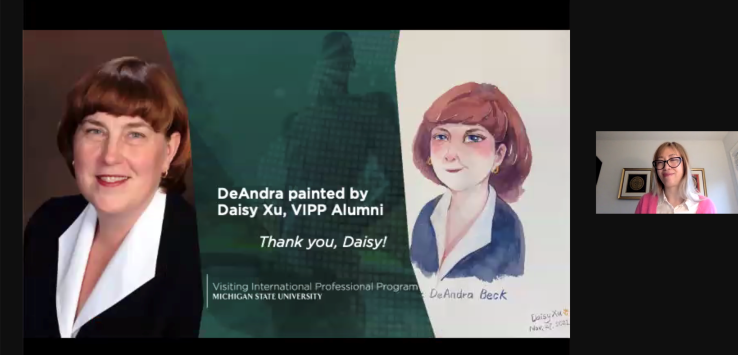 Dr. Mina Shin, VIPP Associate Director then spoke about VIPP endowments. Dr. Shin highlighted the important role of endowments for partnership and international exchange, and how they are crucial for VIPP to continue to host current and future leaders and support the endeavors of VIPP participants while at MSU.
As the ceremony came to a close, guests had the opportunity to share remarks. Speakers talked about their various connections with VIPP, and their memories of their interactions with the alumni awardees and Dr. Kwon. As a prize, the winners of the alumni awards received their choice of an MSU merchandise gift certificate, or a two-night stay in an East Lansing hotel, and VIPP hopes to see some of the awardees back on MSU's campus in the future. The event concluded with a celebratory toast and guests raised their glasses and cheered "Go Green, Go White!" The event was a great way to reconnect with alumni and recognize the many outstanding contributions that VIPP alumni make all around the world as Global Spartans.
Read more about the accomplishments of the awardees. To view more photos and videos from the event, visit vipp.msu.edu/awards or VIPP's Facebook Page.
Watch Fulin Li's special rendition of the MSU Fight Song, performed for the VIPP Alumni Awards: